A Better Alternative to Data Warehousing
Data warehouses are typically used for reporting and and data analysis. They are central vaults for large amounts of data, created by gathering data from several other sources.
Data warehouses store both past and present data which is later used for reporting and forecasting purposes. The conventional process for using this data is ETL; extract, transform, load.
How Does ETL Work?
When it comes to the subject of data warehousing, ETL processes generally involve:
• Extracting data from remote sources
• Transforming that data to suit operational needs
• Loading the data into the end data warehouse
In the past, it was standard procedure to implement a BI project using ETL and a data warehouse. This is no longer the case.
A More Useful Option
InetSoft's full business intelligence suite, Style Intelligence, exists as a low-cost alternative to ETL and data warehouses.
Style Intelligence is, however, fully compatible with a data warehouse environment, if one already exists.
| | |
| --- | --- |
| View a six-minute Flash demo to get an overview of what InetSoft's business intelligence software, Style Intelligence, can do and how easy it is to use. | |
Agile BI
InetSoft prides its software on being the most agile alternative on the market.
Style Intelligence achieves true business agility by following three tenets of BI philosophy:
1. Self-service
2. Flexibility
3. Data mashup
Self-Service BI
Style Intelligence is designed around the fact that not everyone in an organization has a computer science degree.
Traditionally, most business users have had to rely on IT to access key decision making-information. This process not only creates costly delays in decision-making, but also put unnecessary strain on the IT department.
Style Intelligence offers a business environment in which business users no longer need to rely on IT, but instead can access and manipulate data on their own.
Flexible BI
Setting up an ETL process is cumbersome and time consuming. InetSoft's solution reduces the resources and overhead cost of establishing an ETL process by allowing users to experiment with new data on the spot.
End-User Data Mashup
InetSoft eliminates initial data warehouse creation efforts through data mashup. This solution allows users to rapidly add new sources from disparate data locations and analyze data side-by-side through both dashboards and reports.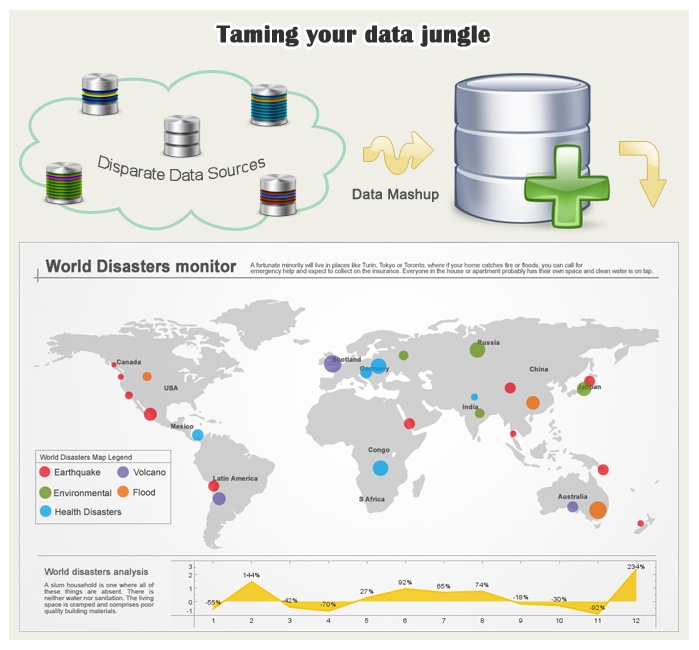 About InetSoft
Since 1996 InetSoft has been delivering easy, agile, and robust business intelligence software that makes it possible for organizations and solution providers of all sizes to deploy or embed full-featured business intelligence solutions.
Application highlights include visually-compelling and interactive dashboards that ensure greater end-user adoption plus pixel-perfect report generation, scheduling, and bursting.
InetSoft's patent pending Data Block™ technology enables productive reuse of queries and a unique capability for end-user defined data mashup.
This capability combined with efficient information access enabled by InetSoft's visual analysis technologies allows maximum self-service that benefits the average business user, the IT administrator, and the developer.
InetSoft solutions have been deployed at over 3,000 organizations worldwide, including 25% of Fortune 500 companies, spanning all types of industries.