Corporate Dashboard Industry Leader: InetSoft Technology
InetSoft was founded in 1996 and has been delivering award-winning software applications ever since. With over 3,000 customers world-wide, deploying its dashboard and reporting software to companies of all sizes in all kinds of industries (such as in advertising, banking, colleges, manufacturing, health care, transportation, and utilities) InetSoft has grown to be a leading provider in the corporate dashboard industry.
Are you comparing Corporate Dashboard Software solutons? InetSoft's is robust enough to:
attract the attention of executives
satisfy the demands of power users
adapt to organizations of all sizes
and is easy enough to be:
deployed in a matter of weeks, not months
learned by end-users with minor training, even beginners
and flexible enough to:
comform to changing information and business needs
accommodate data exploration through visualization and maximum self-service for building new dashboards
Style Intelligence from InetSoft, sophisticated software from an experienced software provider.
Note that Style Intelligence is a business intelligence platform that includes two applications, Style Scope, the dashboard application, and Style Report, the reporting application.
View a Demo
View a five-minute Flash demo to get an overview of what InetSoft's corporate dashboard software can do and how easy it is to use compared to other providers in the dashboard industry.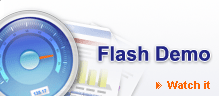 More Resources: