The Forecast data block below uses the LS data block to calculate the sales forecast based on the LS regression method y = a + bx. The values are tabulated in the Calculated_forecast table (i.e. y1).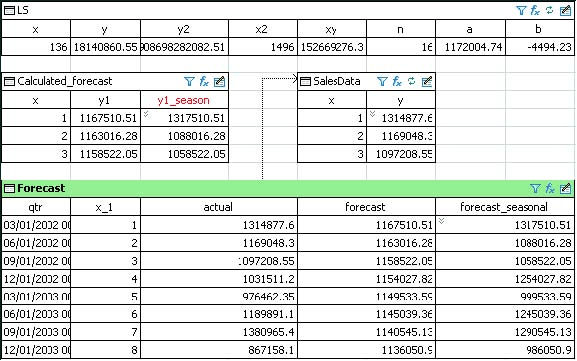 Based on current market research, the sales revenue for this industry has peaks and valleys based on the Winter Olympics bi-yearly schedule. To accommodate for this sales pattern, we incorporated an offset formula into the LS forecast values to provide the values in the y1_season column.
The Forecast table gathers the actual sales data, the LS forecast and the modified LS forecast to be used as the dataset for the chart. As demonstrated, you can easily add more parameters or complex calculations to your data block in order to obtain a more accurate forecast for your particular needs.
With this approach to the forecasting analysis, InetSoft provides a necessary tool for forecasting analysis so that the extrapolated trend is suitable and accurate for each unique case. Typical extrapolation formulas can be built using the Data Block technology for general forecasting analysis and then expanded or modified to account for unique parameters in the monitored measure to provide a more accurate forecast.