Supply Chain Reporting and Dashboards
Do you need to create a unified view of tracking manufacturing input and output while monitoring your organization's budget and actual? With InetSoft's Style Intelligence you get instant access to powerful business analytics and real-time, interactive dashboards for performance monitoring and exploration.
Read how InetSoft was

rated as a leader

for overall value in Gleanster's BI customer survey report.
---
Measure and Adapt to Challenges that Rise in Production or Distribution
A good dashboarding system is particularly valuable to global manufacturing companies who have multiple locations, especially internationally distributed ones. These enterprises have the continuous challenge of monitoring and measuring the performance for each location. InetSoft's Style Intelligence makes a perfect information consolidation platform for global companies, even if the data is stored in different types of source systems, whether they are ERP applications, open relational databases, or even spreadsheets.
No prior BI expertise is required to quickly create detailed reports or dashboards. Business users will enjoy a visually appealing, intuitive interface for self-service reporting and data exploration. Equally important, you will be able to reduce the risks of errors and the amount of time spent using multiple tools to track each company, subsidiary, or location.
InetSoft's highly customizable dashboard reporting application enables your company to create:
Attractive visual dashboards and charts for executives and managers
Manage data from multiple data sources
Automatically generated trend lines based on actual performance and variances
Measurement of performance versus goals and commitments
Efficiently track production schedules
---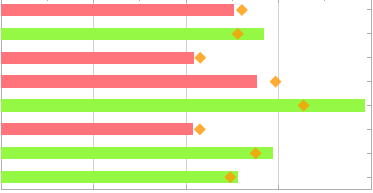 Excel and Power Point can only get you so far in generating an impactful, insight-producing view of your data. In addition to dashboard and report templates that the solution ships with, you get a drag and drop dashboard designer and report wizard that any Excel power user would quickly learn and be able to build any scorecard, dashboard, or report you may have in mind.
The dashboards offer point-and-click controls like filter lists and range sliders so business users can intuitively explore and analyze large amounts of data. The self-service business intelligence capabilities extend to easy personalization of pre-made dashboards and saving of preferred views for quick retrieval.
---
Build Mashups of Your Data from Global Manufacturing Plants to Stores
A key strength of Inetsoft's business intelligence software is its depth of support for data mashups. The data pulled from your systems can be in databases, XML, SOAP, Java Beans. flat files, Excel spreadsheets and OLAP cubes as well as proprietary systems from JDE, SAP, Siebel, salesforce.com and others.
In addition, Inetsoft has innovated unique capabilities for enterprise mashups. You do not have to be a BI analyst to create your own mashups. You can combine disparate tables and fields that were not previously mapped in a data model. Beyond that, you can also bring in your own data sets such as those in personal spreadsheets or those generated by vendors or partners. Whatever dashboards or reports you make from them are now shareable inside the enterprise BI space.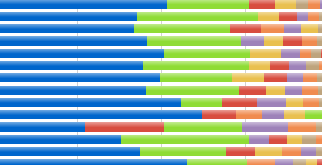 Read how InetSoft was

rated as a leader

for ease of use in Gleanster's agile BI report.
---
More Benefits of Using
Style Intelligence
Your challenges may come from any of these areas: operations, financial reporting, integration, consolidation, or strategic and operational planning. Like most companies today, you may be using multiple tools and requiring large IT teams to manage and service complex applications.
With Style Intelligence you can cut down on costs incurred by large overheads from IT while increasing ease of use for users in the company. With InetSoft's updates and modifications to Style Intelligence there is the guarantee of continuous support that helps make this a low-risk, high-return solution.
In addition to tightening your management, you can:
Address issues that are causing delays in either manufacturing or shipping
Add depth and insight to analyst and shareholder reports
Reclaim time to pro-actively discover patterns in production and sales