Baan (Infor) Dashboard Reports
InetSoft's partner CampionPPS has created an easily customized BI solution for the Baan (Infor) ERP platform. With years of experience helping manufacturers improve performance related to their use of the Baan application, CampionPPS has developed a virtual data model and ready-to-use dashboards that can be deployed very quickly for an immediate increase in visibility into process performance metrics and a reduction in manual labor assocated with information gathering and presentation.
InetSoft's BI application will help you:
Upgrade Your Dashboards and Reports
While Baan is good for managing the processes within your organization, information access and presentation is not its strong point. Would you like to increase the level of interactivity or the visual appeal of information display by taking advantage of modern dashboard and reporting technologies? Would you like to reduce hours of weekly effort that is currently spent on exporting data into office suites for manipulation and charting?
Style Intelligence is a small-footprint Java-based business intelligence server that enables rapid development and deployment of monitoring and analytical dashboards such as this: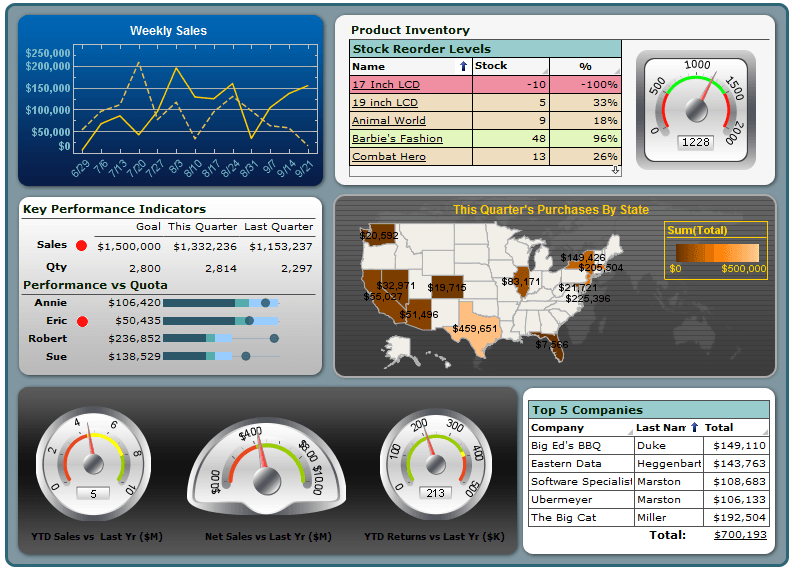 You don't have to settle for manual massaging of data and creation of reports which risk data accuracy and waste time and effort. Style Intelligence connects to your live Baan data and includes a drag and drop designer for creating whatever dashboard or scorecard you wish.
Leverage the pre-built Baan BI solution InetSoft partner CampionPPS has built to get near-immediate increased ROI on your Baan investment.
Create Data Mashups of Your Baan Data and Other Enterprise Data
A key differentiator of InetSoft's business intelligence software is support for data mashups. You can combine data from your Baan application with almost any other data source you have in your organization such as: relational databases (JDBC), multidimensional databases, XML, SOAP, Java beans (POJO), EJB beans, spreadsheets, flat files, OLAP cubes, SAP, PeopleSoft, JD Edwards, and Siebel CRM.
InetSoft offers unique capabilities in the area of data mashup. Business end-users can create their own mashups with whatever data you expose to them combining different data sources that have not been previously modeled for them. It also possible for users to bring in their own data sets such as those in local spreadsheets or those provided by external partners and then share the dashboards or reports based on them, inside the corporate BI environment.
More Resources: