Sales Reporting and Dashboards
Are you looking for a way to interactively monitor and analyze your sales operations data? InetSoft's dashboard reporting software let's you create Web-based dashboards that are impactful and actionable. Built-in interactivity lets you go from a high-level view of pipeline performance and drill down into details. Advanced visualization technology lets you visually analyze and explore large pipelines to spot problems proactively.
Compared to other enterprise dashboard solutions, InetSoft's is easier to deploy and easier to use. Up and running in weeks, not months, you get the maximum levels of self-service via an intuitive, user-friendly interface. With easy point-and-click controls, little training is necessary, and individual sales people can customize their own view of just their deals.
InetSoft's software platform also permits data mashups to combine sales opportunity data with any other data in the enterprise to create a unified view of corporate performance. Sales operations managers can even import their own spreadsheets to create dashboards or reports to be shared throughout the company. InetSoft's Style Intelligence can connect to almost any CRM including salesforce.com.
Track Deals and Analyze the Sales Pipeline
Look at this example analytical sales dashboards below built using InetSoft's Style Intelligence. This one enables quick visual identification of sales opportunities that are stuck in the pipeline.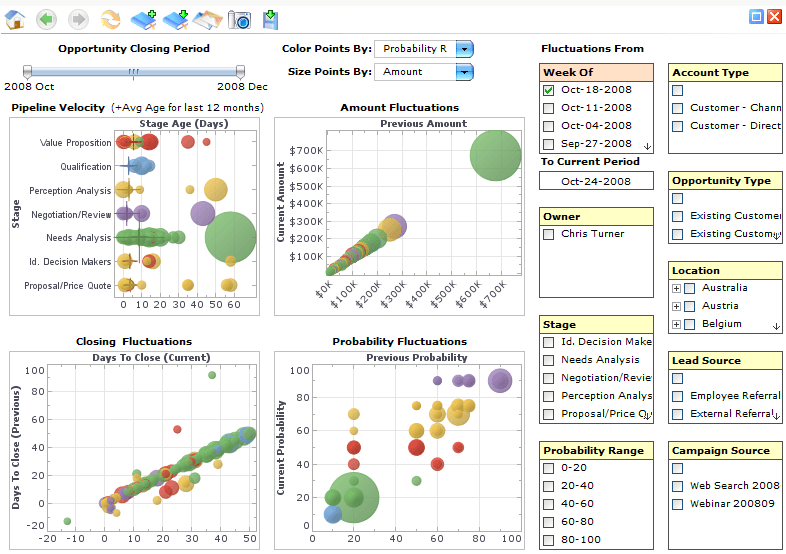 Mobile Sales Intelligence
It's only half of a sales intelligence solution if people in the field can't use it, but InetSoft's software platform supports any mobile device with a browser including phones and tablets. Even iPads and iPhones are supported. Now there is no excuse to not have the answer on the spot.
Mash Up Sales Data with Other Enterprise Information
A key strength of InetSoft's business intelligence software is its depth of support for data mashups. The data pulled from your operational sales or CRM systems can be combined with almost any other data source found in your enterprise including: relational databases (JDBC), multidimensional databases, XML, SOAP, Java beans (POJO), EJB beans, flat files, Excel spreadsheets, OLAP cubes, and the proprietary data stores from salesforce.com, JDE, SAP, PeopleSoft, and Siebel CRM.
In addition, InetSoft has innovated unique capabilities for enterprise mashups. You do not have to be a BI analyst to create your own mashups. You can combine disparate tables and fields that were not previously mapped in a data model. Beyond that, you can also bring in your own data sets such as those in personal spreadsheets or those generated by vendors or partners. Whatever dashboards or reports you make from them are now shareable inside the enterprise BI space.
More Resources: