Using Google Maps in a BI Dashboard or Visualization
InetSoft's business intelligence dashboarding software lets you chart data on a Google map for interactive data visualizatons. Using the Google map API and InetSoft's script language, you can request a static map from Google to be the background of the chart you design in InetSoft's Style Intelligence application. Then you can plot your geocoded data from almost any data source based on latitude and longitude.
Add to your interactive dashboard selection lists, range sliders and a calendar selector, and you can build an efficient way to explore data in relation to geographic features such as as streets, buildings, and terrain features. This gives you the ability to visualize data on a very local basis when using the standard boundary map files that come with InetSoft's charting engine and plotting data based on postal code or region isn't sufficient.
Example of a Google Map Dashboard
This example illustrates the interactive display of the locations of Wi-Fi hotspots in New York City. Multidimensional data can also be charted taking advantage of sizing, coloring, and shapes in order to make patterns apparent.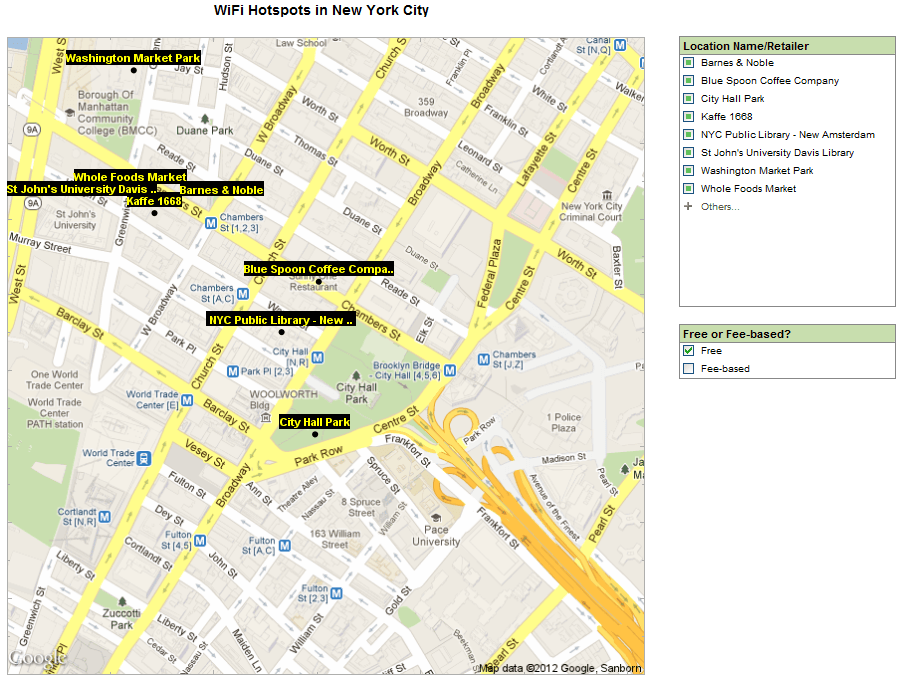 More Options When Using Google Maps
When choosing the kind of map image to use in your data visualization, you have all of the options made available from the Google API. Google's documentation page details the options and URL fetching syntax, and highlights are mentioned here.
Map size - the image file can be as large as 1280x1280 pixels under the free usage license, and 2048x2048 pixels under the commercial license
Zoom level - the detail shown on a map varies with the zoom level from between 0 (the lowest zoom level, in which the entire world can be seen on one map) to 21+ (in which individual buildings can be see) when using the default roadmap maps view
Map type - the default view is the roadmap view, and other options are satellite, terrain, and hybrid
| | | | |
| --- | --- | --- | --- |
| Streetmap | Satellite | Terrain | Hybrid |
| | | | |
Frequently Asked Questions
What are the Google map licensing options?
If you are making the maps publicly visible free of charge and make less than 25,000 map requests a day, then you can take advantage of Google's free license. For use in a commercial application or for private enterprise use, you must contact Google about the Google Maps API for Business program. Of course, using InetSoft's commercial software requires separate licensing from InetSoft.
Can the maps have interactive zooming and panning?
No, you are only able to specifiy a static map for a given chart background.
Can Google map markers be used?
Yes, you can specify static balloon markers in the URL request to get the static map, but they cannot be changed dynamically.
Can street addresses be used to plot data?
No, InetSoft's charting engine requires latitude and longitude coordinates. Google provides a utlity to manually generate the coordinates for a given street address or famous location, and the Geocoding API for automated conversions.
About InetSoft
Since 1996 InetSoft has been delivering easy, agile, and robust business intelligence software that makes it possible for organizations and solution providers of all sizes to deploy or embed full-featured business intelligence solutions. Application highlights include visually-compelling and interactive dashboards that ensure greater end-user adoption plus pixel-perfect report generation, scheduling, and bursting.
InetSoft's patent pending Data Block™ technology enables productive reuse of queries and a unique capability for end-user defined data mashup. This capability combined with efficient information access enabled by InetSoft's visual analysis technologies allows maximum self-service that benefits the average business user, the IT administrator, and the developer. InetSoft solutions have been deployed at over 3,000 organizations worldwide, including 25% of Fortune 500 companies, spanning all types of industries.
More Resources: