JD Edwards (JDE) Dashboard Reports
Besides being able to access almost any open standards data source, InetSoft's BI server can also access JDE data. InetSoft provides a good option if you are seeking to:
Upgrade Your Dashboards and Reports for JDE
Whether you are using JD Edwards World or EnterpriseOne applications, you can benefit from a greater level of interactivity or from a more contemporary look and feel versus what is possible with JDE's own dashboards and reports. InetSoft has been a leader in the development of highly engaging, user-friendly Flash-based visualizations and dashboards that are easy to develop and personalize.
InetSoft gives JDE users even more options with interactive Flash-based dashboards and powerful data mashups from multiple data sources. Learn more about InetSoft's BI for ERP solutions...
Style Intelligence is a small-footprint Java-based business intelligence server that enables rapid development and deployment of monitoring and analytical dashboards such as this: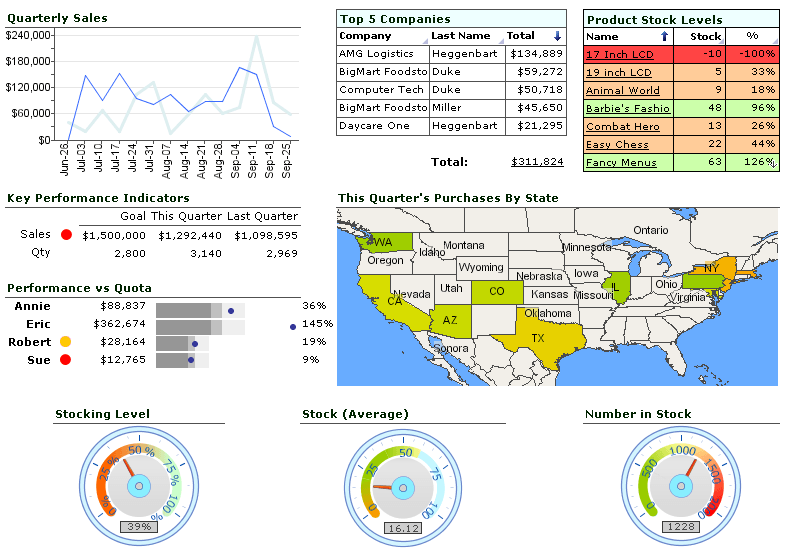 Compared to the alternative of acquiring Oracle's Hyperion dashboard suite, InetSoft's solution offers greater agility and ease of use, more rapid deployment times, and more flexible and affordable pricing.
Build Mashups of Your JDE Data and Other Enterprise Data
A key strength of InetSoft's business intelligence software is its depth of support for data mashups. Data from JDE can be combined with almost any other data source found in your enterprise including: Relational databases (JDBC), Multidimensional databases, XML, SOAP, Java beans (POJO), EJB beans, flat files, CORBA objects, OLAP cubes, SAP, PeopleSoft, and Siebel CRM.
In addition, InetSoft has innovated unique capabilities for enterprise mashups. You do not have to be a BI analyst to create your own mashups. You can combine disparate tables and fields that were not previously mapped in a data model. Beyond that, you can also bring in your own data sets such as those in personal spreadsheets or those generated by vendors or partners. Whatever dashboards or reports you make from them are now shareable inside the enterprise BI space.
Supported JDE Applications
Style Intelligence can access data in JD Edwards World or EnterpriseOne.
So whether it is providing more powerful, yet easier-to-do ad hoc financial reporting, or creating a unified view across several business units, you will be able to deliver the dashboards or reports your organization requires.
More Resources: