SharePoint Dashboard Reports
InetSoft's BI software lets you build dashboard reports on SharePoint data and lets you embed dashboards using any data, including mashups, into your SharePoint server.
InetSoft's SharePoint data connector unlocks the business information stored in SharePoint lists. The application can be deployed in hours and does not require prior BI expertise. Developers and power users can take advantage of a drag-and-drop design environment to rapidly create interactive dashboards and drill-through reports. Business users and IT admins get to use visually appealing, intuitive, and highly personalizable dashboard views for maximum self-service reporting and ad hoc analysis.
Upgrade Your Dashboards and Reports
SharePoint allows for rudimentary reporting on list data, but when you need more sophistication, more interactivity, and a unified view of information that spans multiple source systems, InetSoft's Style Intelligence provides an upgraded business intelligence solution.
Whether you're interested in tracking content management and usage, project management details, compliance information, or any other business data in lists, Style Intelligence exposes them without users having to learn their arcane organization or 'SQL for Sharepoint.'
Here is an example of a dashboard built on SharePoint data: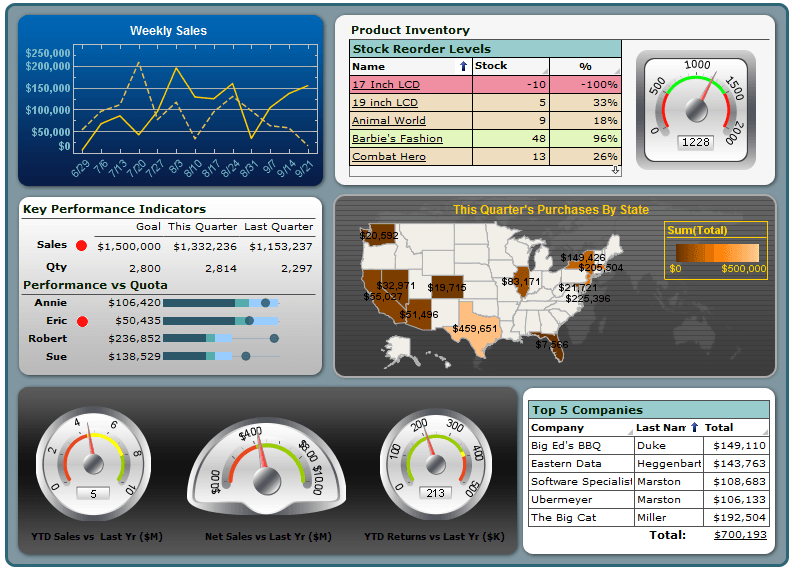 Embed Any BI Dashboard into SharePoint
InetSoft's Style Intelligence is a completely Web-based dashboard and reporting solution. You can embed any dashboard in an IFrame of any page running on your intranet, extranet, or public Web server. User administration and pemissions leverage your existing security setup and protocols, and you may go even further with permission control down to the data cell level.
A key differentiator of InetSoft's business intelligence software is support for data mashups. You can combine data from your Baan application with almost any other data source you have in your organization such as: relational databases (JDBC), multidimensional databases, XML, SOAP, Java beans (POJO), EJB beans, spreadsheets, flat files, OLAP cubes, SAP, PeopleSoft, JD Edwards, Siebel CRM, salesforce.com, and Google Analytics.
InetSoft offers unique capabilities in the area of data mashup. Business end-users can create their own mashups with whatever data you expose to them combining different data sources that have not been previously modeled for them. It also possible for users to bring in their own data sets such as those in local spreadsheets or those provided by external partners and then share the dashboards or reports based on them, inside the corporate BI environment.
More Resources: